special offers & covid-19 travel information
PLEASE CALL FOR AVAILABILITY
Some of our guests travelling from further afield than Europe are understandably choosing to change their summer bookings to 2021. So our summer availability (which was previously full) is now constantly evolving. Please contact us for the latest availability.
We are open right now (as of May 2020), but travel in France is currently limited to 100kms unless it's for business. We are hoping this will change from 1st June and will post the revelevant information here as we receive it.
It has already been announced that there will be no quarantine requirement for travelling between France and the UK.
So if you need a sunny summer holiday then the south of France is one of your easiest options when travelling from Northern Europe. If you wish to avoid airports and travelling by plane then we are easily accessible by car - it's a long days drive from Calais or the northern border, or we can recommend places to stay if you wish to spread the journey over 2 days.
Our department, the Alpes-Maritimes and the adjacent Var, have had a very low incidence of the virus, and in the hills where we are located there's has been none that we are currently aware of (May 2020). We are set in beautiful isolation, surrounded by 15 acres/6 hectares of garden. The house has everything you could possibly want for a fantastic weeks holiday and we even offer a shopping service, so all your provisions can be waiting for you on arrival, hassle-free.
And if you don't wish to enjoy all the facilities of a professional kitchen we can even provide some or all of your catering. Basically we are flexible and keen to make le foulon live up to your dream 2020 holiday; safe, comfortable and fun. Please contact us with your requirements.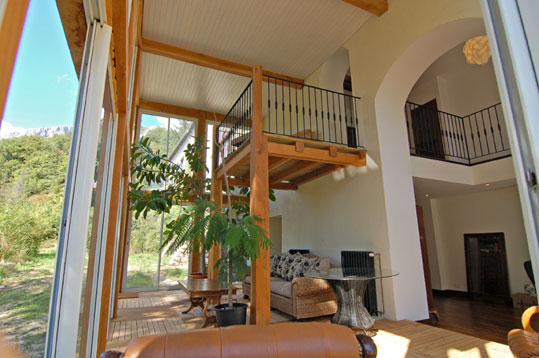 CAPTION FOR THE PICTURE OF CORSICA AT THE TOP OF THIS PAGE:
This picture is taken from the top of Mount Cheiron, rising behind Le Foulon to almost 1800M. Look carefully at the horizon - that long dark mass is the island of Corsica, 240kms away, and in the foreground is Nice Airport. If you drive to Gréolières les Neiges (15-20 min's) then you are rewarded with this view after just 1 hour's hike, or come to ski and get there by chair lift. It's even better in reality.