canyoning
THE ART OF THROWING YOURSELF DOWN A GORGE
Canyoning is a cross between hiking, climbing, swimming, dive bombing and canoeing - just without the canoe! During the summer months more and more people are heading to the gorge to jump in the cool waters and more than one company now specialise in making sure you get from one end to the other safely.
There's no doubt it's an exhilarating experience and the best way to experience the gorge - after all there's no footpath to follow and walking the pavement free road is not the safest idea. However, it's best avoided in August when there can be as many as four guided tours in the gorge at any one time - we've only seen them descending from the road so we can only imagine what kind of traffic jams must back up!
But avoid August and you'll have a great morning and work up quite an appetite for the obligatory long Provencal lunch.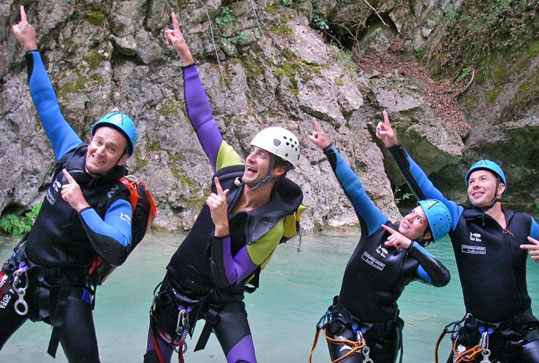 To book your canyoning speak to the ever helpful Monsieur Martinez - he speaks excellent English and will be able to furnish you with all the details you need.

DESTINATION NATURE CANYONING 06 Richard Martinez +33 (0)6.86.66.35.49

www.canyoning06.com