corporate events
MEETINGS AND INCENTIVES
With 9 luxury rooms and a total capacity of 26 with a further 4 smaller rooms, Le Foulon is the ideal place for a meeting or company incentive. Less than 2 hours from most UK regional airports, including direct flights from London City, and only 35 minutes by taxi or just 5 minutes by helicopter transfer, Le Foulon can be more convenient than driving to a country hotel in the UK.
We have hosted several events for city companies. In a very comfortable and yet informal atmosphere, free from distraction and totally secure, senior executives have the perfect environment to plan for the future. Leaving the City of London after a business day you can still arrive in time for a late supper.
Having come from a corporate life ourselves we understand your requirements, and with the hotel owners staffing your event you are well looked after as well as being assured of total confidentiality.
And if you are looking to reward a hard working team of professionals then a party here combined with one of the many activities found in the nearby area is just the incentive you're looking for. Click on 'what to do here' for more info.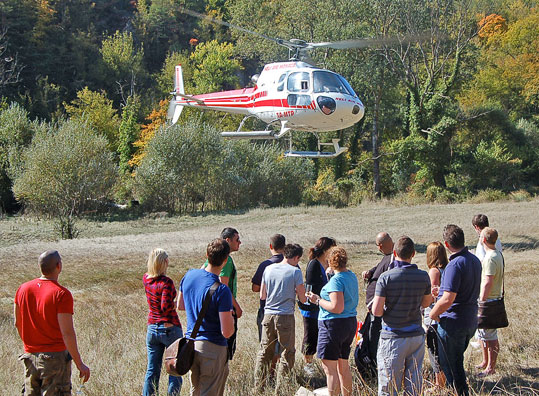 Helicopter transfers from Nice Airport take about 5 minutes and cost in the region of €100
per person based on 5 sharing. In this instance we had 3 land simultaneously
to bring a UK company up from a night in Monaco.
Most corporate bookings are unique in their requirements, so please email us and we'll provide a tailored quote. But to give you an idea here are our 3 night prices outside of the summer season. They include breakfast and have a staffed restaurant and bar uniquely for you (there are no other guests when booking one of the these 3 night packages).
CLICK FOR OUR AVAILABILITY
No of resident guests
3 Night B&B Price
Low Season

3 Night B&B Price
Mid Season

No of
rooms

14

€1,790

€1,990

7

16

€1,980

€2,260

8

18

€2,170

€2,490

9

20

€2,330

€2,640

10

22

€2,465

€2,760

11

24

€2,590

€2,880

12

26

€2,690

€2,990

13

04 Jan - 30 Mar
14 Apr - 04 May
29 Sept - 21 Dec

31 Mar - 13 Apr
05 May - 13 July
01 Sept - 28 Sept
"I hosted a trip for my hardworking management team at Le Foulon. This is a magnificent hotel set in a stunning part of Southern France. This was the perfect base to host my annual incentive, with Nick and Mia (the owners) taking care of our every need. Nothing was too much trouble and made us feel most welcome. The service provided was first class, with both Nick and Mia preparing all our meals and of course refreshments!
With Nice and Monaco easily accessible it allowed for an action packed weekend mixed between the peace and tranquillity of Gréolières, and the luxury and pace of Monaco.

I would highly recommend Le Foulon for both business incentives and also as a get away for groups and special family occasions. "
Stewart Barnett, Head of Post Business, KFFS, Scotland