village life
CULTURE, NATURE AND A FINE LUNCH
One of the main reasons we chose this part of Europe to create our dream property (apart from the fantastic climate, stunning scenery and ease of getting here!) is the endless variety of places to visit. Whatever turns you on, this part of Provence has something to offer.
If you're looking for a piece of traditional Provence, where the locals spend the afternoons on the village Boules pitch, and where little has changed for centuries, then take your pick. Our village of Greolieres has less than 500 inhabitants, but an impressive 4 restaurants. It's a sweet place to stroll about, but to really understand the history of the place you need to walk a further 10 minutes up the mountain to the ruined old town. Only the chapel has been restored since it was left to the elements when the plague came calling way back when...
Just 10 minutes drive from Le Foulon is arguably one of France's most picturesque villages. At 800 metres above the coast it has a commanding view of the Cote d'Azur from Nice to the bay of Cannes. The breathtaking location means the village is a little touristy now, but it also means you're spoilt for choice with buying gifts to take home and it's also a great spot to have a leisurely lunch in the sun.
If you're taking the woodland path then Cipieres is actually the closest village to Le Foulon and is only a 35 minute walk - and much quicker on the way back down. Dominated by the old monastery the village has a pretty square with one restaurant, a pizzeria and snack bar plus a small shop, as well as an artinasal candle maker.
At the mouth of the gorges du loup this little hamlet has an amazingly ruch history. Before the second World war it thrived on tourism, with the magnificient railway viaduct that once stretched across the two mountains bringing wealthy clientel up from the coast. Three restaurants remain, but of the 4 hotels just one is still here. Apart from the history and the scenery the main draw is a sweet factory that offers guided tours and produces mouth watering hand made chocolates.
Just up the road from Pont du Loup, Bar sur Loup has gorgeous views over the verdant valley fed by the river Loup on its way down to the coast. A large village it has a very pretty square and a very useful tourist information centre. To one side is a great pizzeria and the recently renovated Chateau that boasts some lovely suites and a Michelin starred restaurant.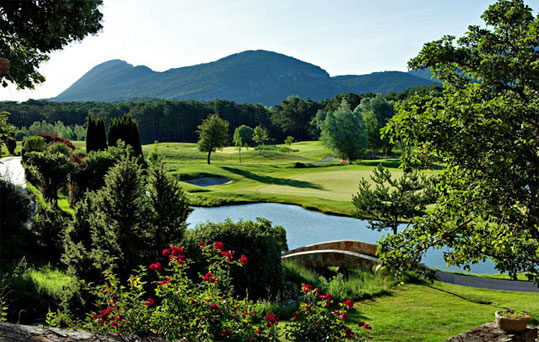 Chateau Taulane Golf Course - 18 holes designed by Gary PLayer and situated at 1200m above sea level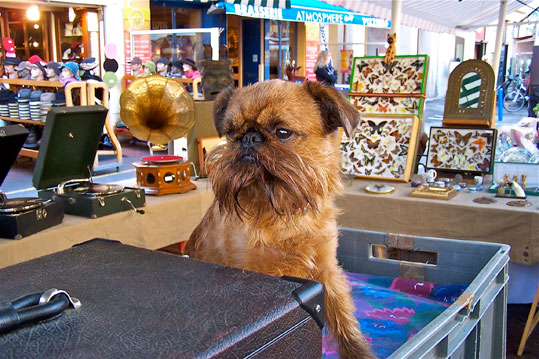 The Antique Market in Nice - he's a good haggler